Character testing tribulations on tour
December 14, 2022
If you're ever thinking about complementing someone after a show, please do so. It may be what they need to keep going after a long week.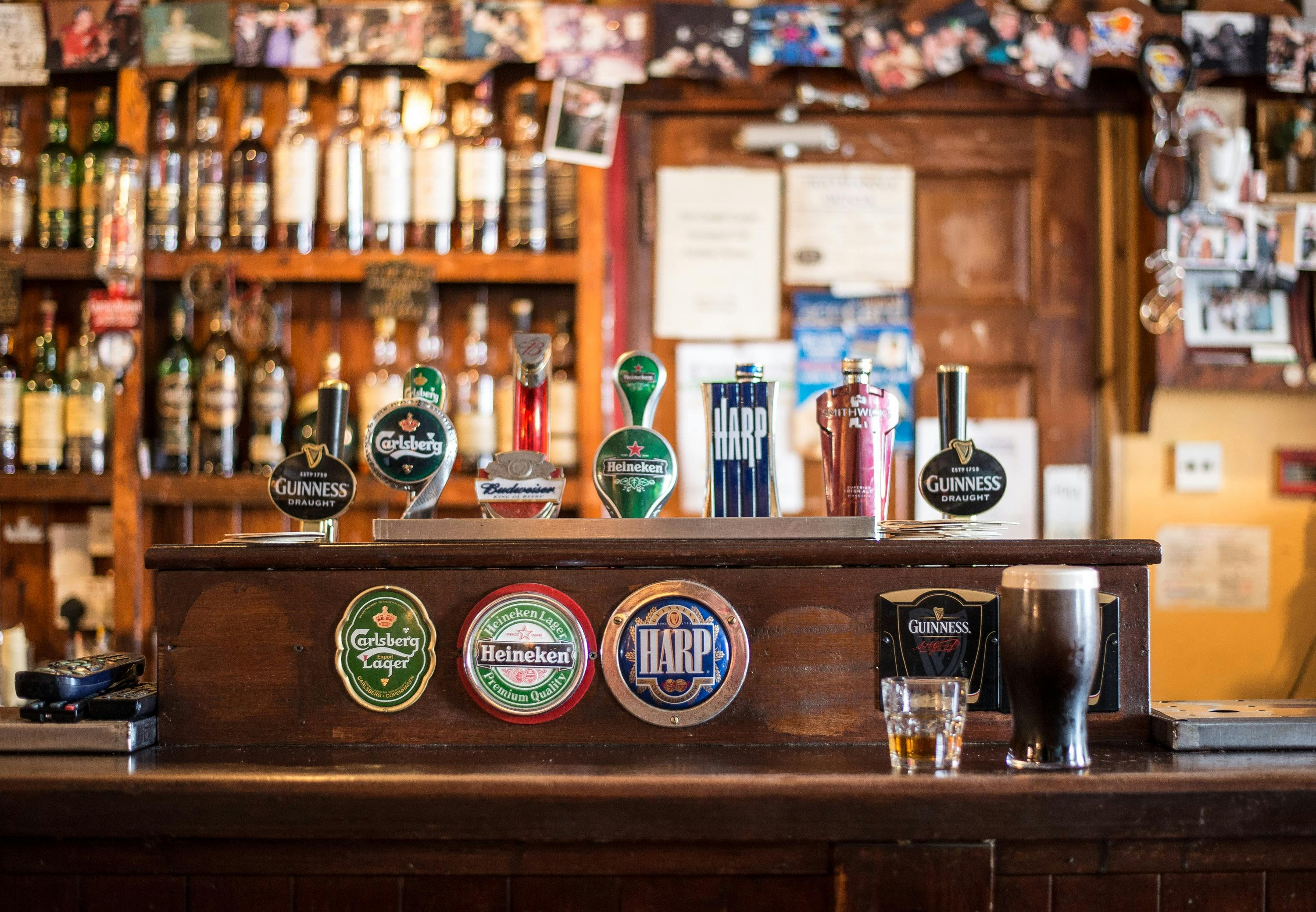 An Irish bar somewhere (image courtesy of Pexels)
I've been working closely with a very generous patron and adviser for a little over a year now. He's been helping me with the management of all things, marketing and investing in my projects to keep my operation running. I must admit, these virtuous individuals in my life who go out of their way to help me are an important counter-balance to the barrage of insanity that I often experience as an independent musician out on the road. It's brought me the highest highs and the lowest lows. Honestly, nothing has tested my character more than the Irish live-music circuit. If you're ever thinking about complementing someone after a show, (or any other form of gratuity) please do so. It may be what they need to keep going after a long week.
I'd like preface this story by saying that Ted's Bar are not responsible for any of this madness, only the people within it's public walls. I've changed the names of everyone involved.
En route we we're having a lot of car trouble. At one point my Seat Altea XL stopped accelerating entirely and so we were left with a dilemna. Chance it and try to get to the bar, or to rent a GoCar and leave the car on the mainland closer to home. This was my first mistake of the evening. I would have just about broken even and potentially made a loss with the rental and so I chanced driving my limping vehicle out onto the unfamiliar Achill Island.
My girlfriend Eibhlin and I arrived in Ted's Bar about 40 minutes before my set was due to begin. Upon entering the bar, a young man of about 20 (we'll call him Michael) shouted at us that we were late and that the crowds had left. This drew the attention of the entire bar, where a long silence was held until I asked one of the bar staff where I was to set up. He looked at me and then to Michael with confusion. When he saw my matched confusion, he broke the brief tension by saying "yeah just follow me over here". He led me to a corner of the bar while Michael stared after us with a vacant, yet angry, drunken stare. I set up my PA and rig. Eibhlin sat on the nearest table to me while I got in the zone and went through my mental checklist.
Trying to stay focused
I opened with a cover of Chasing Rubies by Hudson Taylor and began to turn a few heads towards the sudden addition of live-music. Enter Joseph, an older, very overweight man who was many pints deep into his Saturday night. He immediately starting clapping along to the music and shouting slurred statements. Through his cursive words I could work out that he was enjoying my set. A welcome sight to begin with. He started to talk to me while I was in the middle of a song, and when I did not respond he then turned to Eibhlin. The song finished and he brandished a bank card and ordered two drinks for Eibhlin and I. "That was nice of him" I said to Eibhlin, to which she responded "there's no such thing as a free drink". Truer words have never been spoken. This was the beginning of an intense two hours of watching her get harassed by Joseph, while Michael spent the night heckling every song. "Play something we recognise", "Speak up", "Would you play something upbeat for f*cks sake!". It only got worse.
As the night progressed, Michael and Joseph went deeper into their boozy buzz. They began to loudly argue as to whether or not my performance was any good. Joseph was firm in his belief that I was great, but Michael was dead against everything I played. Again they tried to involve Eibhlin and from this moment on Joseph would not leave her alone. He repeatedly offered to buy her drinks and, when she refused him, he beckoned her across the bar. He tried to put his arms around her and pull her in close, shouting "you're just so sexy". Worth mentioning that everyone in the bar heard this and did nothing. I immediately saw red, and stopped my singing to shout something, but for that brief moment I forgot that I was speaking into a microphone. Once again every head in the bar turned towards me in an attempt to understand what noise I was trying to make. I pointed at Joseph and mouthed to him that he better leave her alone. For all the use that did, Eibhlin calmly took his hands away from her and told him to leave her alone, which worked for some time.
Towards the end of the set Joseph returned to us and spent 10 minutes talking at us, saying that Michael was a great singer. He asked me numerous times if Michael could sing a song, and despite my refusal he beckoned him over to us as I said my goodbyes to the crowd. With this, Michael lurches forward with an arm outstretched towards the neck of my guitar. I pulled it back and told him off, saying that there's no chance he's getting to play. With this, he turned more sour than he was before. He began exclaiming loudly that the music was sh*t and that it was the worst music he'd ever heard. He must have said it about 10 times loudly to the air.
Just then the owner entered the bar and introduced himself to me. He apologised to me for being away and asked how my set was. Michael shouted over his shoulder once again that I was sh*t. I tell you, if there's one thing this Michael has mastered, it's pushing everyone around him into disturbed silence. I thanked the owner and turned away from this silence to start packing away my things. Eibhlin and I wanted nothing more than to be rid of this place and never see it again. The owner went behind the bar in attempt to clear some of his Michael induced confusion. I overheard the bar staff saying to him that the music was really good, and everyone was happy. When he returned to me with my pay, I explained to him my experience with Michael, to which he apologised and said "he's got serious problems that lad - big, big issues". We said our goodbyes and he turned to the bar staff, saying "Where the f*ck is Michael gone off to?". Once we had all of my gear packed, we went straight out the door and didn't look back.
I want to take a brief intermission to say that this isn't even close to the maddest part of this story. Strap in, things get a whole lot crazier.
Keem bay on Achill Island
Eibhlin and I packed up the car with urgency, both of us still in shock over the experience we'd just had. Our plan was to set up the car for sleeping at the lovely Keem Bay, and to start our morning with an Instagram worthy campfire coffee. However when i started the car, it now would not accelerate whatsoever. This sent us both into a spiralling panic. Almost in the same instant, the lights of Ted's Bar flicked off and we were met with the realisation that the contents of Ted's Bar would be spilling out into the car park at any second. We certainly did not want to be greeted by Joseph and Michael, in the unfamiliar darkness of Achill Island.
I was able to move the car very slowly with the clutch, so I edged the car next door into a Circle K garage. We weren't there 30 seconds, and a van arrived in the garage. They parked right up beside the door of the garage and began working on the lock. We felt a bit uneasy being so close to this man, so we edged further again and went on to the entrance of a breakers yard full of cars. Here we sat for a good 40 minutes just chatting and trying to come up with a plan as it was getting close to 2am and we were directly underneath some bright street lamps. This entire time, the Van Man kept jimmying away at the door lock for Circle K. We kept a sharp eye on him and continued our planning.
All part of a weird night in Achill (image courtesy of Pexels)
We could see the breakers yard had a nice dark patch at the end of it and considered trying to edge down into the dark yard to get a bit of sleep. Just as we were weighing this up, I glanced into my wing-mirror. The man was running at my car with his hood up and something in his hand. In the spare seconds I had, I said "Eibh something's happening here this fella is running at us" and I locked the doors. He got to the car and just started punching. He was hitting the door panels and the windows, screaming at us. "Get the f*ck out, which window do you want me to smash" was his opening line. In a panic I shouted back at him through my closed window trying to figure out what the problem was. With everything I said came another punch on the windows. He was really going for it, I could see that it was starting to hurt his knuckles each time he bashed them off the glass.
With the intensity of his rage building, I feared the driver-side window smashing and us getting showered in broken glass. I cracked the window and tried to reason with him that my car is broken down and we are stuck. Through gritted teeth he screamed about 3 times "You're making a c**t out of me", to which I said "I haven't made a c**t out of you, I don't know who the f*ck you are". Continuing now to hit the doors and roof he screamed "Haven't? Past Tense!?" with a seething look. It was just then that I realised what he was holding. It was a plastic bag with big heavy duty zip-ties. In a sudden panic I said "F*ck this, I'm calling the guards" and dialled 999. He screamed back "Yeah I'm f*cking calling people too". The man jumped back in his van and drove up a very steep driveway just across the road. He went into the house and turned on the lights in every room. The next ten minutes were a bit of a blur, we could see him going from window to window on the phone, staring down at us.
Still stuck in my broken down car, we struggled to explain to the guards what had just happened. They told us that there weren't any guards on the island that week and so they would be at least an hour coming from Mayo. Our final lifeline was Ashling, a friend who was in her bed at Castlebar. Thankfully she picked up and we explained the situation. She jumped straight in her car and got on her way towards Achill. However, we weren't out of the woods yet. With Castlebar being a good hour away from our location, the site of this crazy man going from window to window in a manic fashion held the tension. I just started turning on and off the engine and revving the accelerator. By some miracle, it must have been the 10th or 15th try, but the acceleration returned. The dashboard lit up like a Christmas tree, but we had power! I pulled off as quick as I could and floored it.
Not something you want to meet on the road in the middle of the night (image courtesy of Pexels)
What initially seemed like a short road along the island, suddenly felt 100 kilometres long. We hurtled towards the only bridge off the island. As we crossed we felt suspended in whatever limbo exists between panic and relief. We were off the island, but the car could give out at any stage. Suddenly on sharp we had to brake hard, as there was a massive muscular stag standing in the middle of the road with deer & doe all around him. Eibh and I just burst out laughing. Relief finally setting in as we tried to come to terms with what had just happened. It was like we had been sharing the same fever dream for the last 12 hours. We kept driving until we met Ashling in Newport where the car died again. We abandoned it for the night and jumped into Ash's car. We filled her in and began theorising what could possibly have been his motive. We had a good laugh at Eibhlin initially thinking that he was holding a sandwich. Ash brought us home and sleep drew us in like a familiar hug.
We still have no idea why this man did what he did. We have some theories. Maybe he was trying to break in to the Circle K and was angry at us watching him. Maybe he was planning to tie us up with zip-ties if we would have complied. Or maybe he was just an angry garage owner who was a little overprotective of his business. We still can't understand the zip-ties though. Maybe they were just an intimidation tactic. Either way, like many of the experiences I have collected on the Irish Live-Music circuit, we must tell the tale and keep pushing on. As with this great-low, will come a similarly great-high. After all, I do love telling a good story.
© Dunluvly 2023